---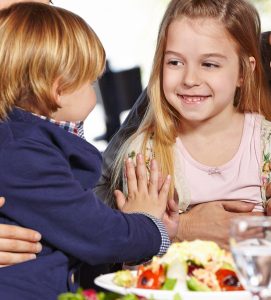 Studies have shown that children who are well-nourished are overall healthier, more focused, and demonstrate higher mental performance than children who are under-nourished. This is why Palm Bay Daycare has teamed up with Florida Health to provide children with nutritional meals and snakes everyday their in our care.
Food, Snacks and Drinks Included
Every child in the daycare is provide with meals, snack, and drinks which are included for every child enrolled in the child care program. The food servers at the daycare are very cautious to food allergies that are informed to them from the child's parent or guardian and only server quality food and drinks that are both healthy and favorites among the children.
Food Handling
The food handlers/cooks at the daycare follow strict guidelines when handling food served to the children. All safety requirements are always meet and the kitchen is continually inspected to exceed the state requirements to operate a safe kitchen in the state of Florida.
Selection of Food and Drinks
The menu at the daycare has some staple favorites such as "Taco Tuesday", but most of all the meals and snacks are always alternating to keep the children enjoying every meal and snack there served everyday. The main focus of the food selection is to promote healthy development while providing a delicious experience the children look forward to every day.
Taco Tuesday is my favorite meal of he week! I can eat so many because I love them so much!