Palm Bay Infant Child Care
---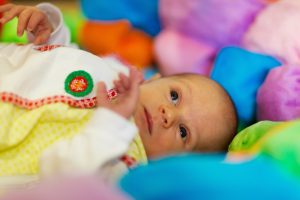 Caring for infants is a passion that our care providers all have in common. The infant child care program provided at Palm Bay Daycare is based around making sure each baby is receiving quality care every moment of the day.
Up-most Care
Inside the Infant child care room there is a large assortment of age approach toys for the babies to play as they explore their new world. Every toy is carefully maintained and regulatory replaced with new ones and every toy is continually cleaned and sanitized to help prevent the spread of germs. Given the exploratory nature of infants as they begin to crawl around, we take sanitation very seriously, therefore we require anyone entering into the infant room to follow our strict entrance protocol. If you would like to know more about our preventative measures we take to ensure the infants are always in a clean safe involvement, feel free to contact us.
Food Program For Infants
Palm Bay Daycare has teamed up with the state of Florida to provide healthy meals for every baby in our infant child care program. Our care providers have been carefully screened, trained, and and have all passed the state required background check to ensure every infant is in good hands. Every infant in our care receives exclusive one on one time their daycare provider where he or she is given close attention and personalized feeding times.
Clean and Happy Babies
Babies in our care are closely monitored for potty movements and promptly cleaned up so he or she stays comfortable all day long. If you would like to know more about our infant child care program, feel free to contact us to set up a tour of or daycare center.
I'm so happy with the level of quality care PBD provides to my baby. Every day I drop off my baby and the entire staff make me feel comfortable that by baby is being looked after properly. Thank you girls for all that you do!