---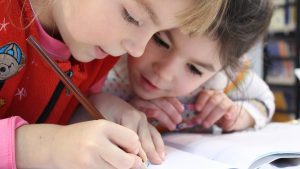 The Voluntary Prekindergarten(VPK) program provides children with a solid academic foundation by preparing them for kindergarten, while enhancing his or her pre-math, pre-reading, social skills, and language arts. Through developing these skill-sets, children have core experience in the fundamental areas of education and become strong readers, making them more likely to be successful throughout their education journey. Our Prekindergarten classrooms provide quality attributes which include: top-level literacy standards, qualified CDA teachers, controllable classroom sizes, and developmentally appropriate curriculum.
The VPK program is free for 4 and 5-year-olds who reside in Florida. All VPK participating children must be 4 years of age on or before September 1.
VPK Program and It's Teachers
The VPK program provides children the opportunity to gain a solid academic foundation they can build on as they develop into scholars. Each VPK teacher is carefully screened to ensure a perfect fit, which requires them to be actively certified (CDA) by the state of Florida.
Each day children are greeted by smiling teachers who genuinely care about the welling being of every child and who absolutely enjoy working with children. The warm and caring environment at Palm Bay Daycare helps children feel comfortable, making it easier for them to learn and develop progressively.
For more information about the VPK program, we encourage you to contact us and schedule a tour of the facility, where you have a chance to meet the staff and learn more about the day to day operations of the VPK program.
My little boy loves going to his VPK everyday! He comes home so excited about his day and can wait to tell me all the new stuff he learned throughout the day... I couldn't be happier!!!