Summer Program for the Kids of Palm Bay
---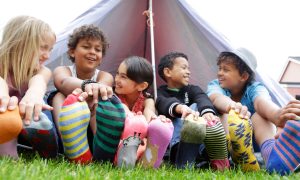 It's that wonderful time of the year when children are out of school on summer break. Therefore, we have developed a summer camp program for kids to have a blast while they continue to build their academic and social skills.
The program is designed to give the kids a break from learning in the traditional sense as they have done over the year at school. They will enjoy fun activities and field trips where they will build lasting memories they will cherish for a lifetime.
We encourage parents to inquiry about the center sooner than later since space is limited.
For more information or to enroll your child, contact us today!
STEAM-Based Curriculum for School Age Kids
Our learners alternate through various learning environments including literacy, art, science, dramatic play, media center, and mathematics to ensure exposure to STEAM-based education, which utilizes a hands-on, systematic approach to develop science, technology, engineering, the arts, and mathematics while developing both problem-solving and critical thinking skills.