3 Year Old Daycare Learning Program
---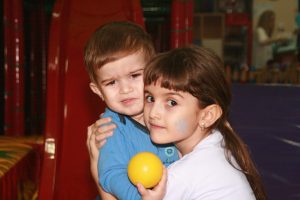 Three year old's spend their days exploring, sharing and learning new and exciting things. A 3 year old develops his or her individuality and confidence and in our fun clean environment encourages a sense of security. At the same time, the program helps young children adapt to routines and formalities.
At Palm Bay Daycare we plan your 3 year old's activities based on a program from Creative Curriculum. Every Day your 3 year old will increase his or her language capability, while practicing counting skills and learn to collaborate with others as they partake in group activities. The daycare program helps children begin to communicate more effectively with adults and other children and to take on greater challenges as they grow.
For more information about our Three Year Old Daycare Learning program, feel free to contact us and we'll be happy to answer any of your questions.
I am so happy with the quality care my child receive at the daycare. The daycare is always clean and well keep. I recommend this daycare to all of my friends and family.
I love spending time at Palm Bay Daycare. As soon as I get out of my kindergarten class, I get pick up in the bus to go and play with my friends.
I have so much fun playing at the daycare with all my friends! Every I learn something new. Today I learned the color blue...